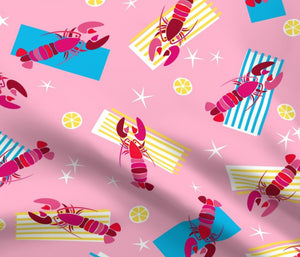 Click HERE to order this print in over 20 different fabrics from Spoonflower.com
Designed by Justin J. founder of DAPPER DAY. Loved by Salvador Dali who frequently featured lobsters in his surrealist works, it was designer Elsa Schiaparelli (working in collaboration with Dali) who elevated the lobster to high fashion status with her iconic 1937 lobster dress. With this print we give our interpretation of this chic crustacean enjoying seaside delights.
Shop more items from this collection HERE.